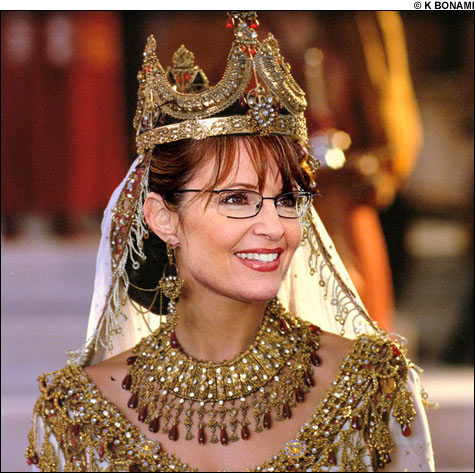 Yes, a lot of Christians think that Sarah Palin is something like the reincarnation of Queen Esther.
The best
Purim Torah
is the stuff you can't make up. The notion that Sarah Palin ought to be seen as a modern day Queen Esther is both ridiculous and acutely entertaining. So we bring you the story that the Boston Phoenix ran during the campaign, October 22, 2008
.

Travels with Sarah
By DAVID S. BERNSTEIN

I found the contraband signs in the damp grass. They had been rounded up and now lay in two piles by the opening in the chainlink fence...

So, while the crowd was still cheering Palin, who had finished her 30-minute speech and had begun signing autographs, I headed to that entrance and found about a dozen handmade cardboard signs.
... two most striking were adorned with Jewish stars. One read "PALIN — TRUE NORTH." The other, "SARAH — FOR SUCH A TIME AS THIS."

That last phrase comes from chapter four of the Old Testament Book of Esther. Apparently, the idea of Palin as the Queen Esther for our time has made it to New Hampshire.

The theory has been around since before John McCain picked Palin in late August — it was circulating on religious Christian blogs in early June when news outlets reported that she was on McCain's short list. After the announcement, it picked up steam — particularly after it was reported that Palin, at the suggestion of her pastor, had, upon becoming governor of Alaska, patterned herself after Queen Esther.


Soon after the Republican National Convention, an e-mail went viral in conservative Christian circles, in which Pastor Mark Arnold claimed to have found himself next to Palin at a rally in his hometown of Lebanon, Ohio. According to the account, Arnold came face-to-face with Palin, and God spoke through him, telling the governor that "God wants you to know that you are a present-day Esther. . . . Keep your eyes on God and know that He has chosen you to reign!"

Palin, according to the account, immediately began to cry — as did her husband, Todd, when Arnold then repeated the news to him. Arnold also told McCain that the Palins are "called of God and she is an Esther."

Esther, for those not up on their Old Testament, was a Jewish woman plucked from obscurity to become Queen of Persia after winning a beauty contest. This placed her in the right place, at the right time, to intervene in a plan to annihilate the Jews. In a nutshell, when she revealed herself to be Jewish, the king halted the slaughter and instead hanged Haman, the official behind the plot.

Jews recount the tale on Purim with much gaiety and, for most, little concern about historical accuracy.

Palin, of course, was a beauty-pageant participant (while McCain has oft commented that he "never won Miss Congeniality in the Senate," Palin won that title in the 1984 Miss Alaska contest), now plucked from obscurity to be in a position to advise the powerful should John McCain become president.

The big question, of course, is for what vital role — what "time such as this" — is Palin being groomed?

One common theory among the Christian cognoscenti is that, just as Esther stopped a threat in Persia to wipe out the Jews, Palin must stop a threat from modern-day Persia — Iran — to wipe out Israel (which would be anathema to conservative Christians, who believe Jews must control that land when Christ returns).

Jon Wiener, blogging last month on thenation.com, took note of this suggestion and pointed out that, in the Biblical account, Esther also got the king to grant the Jews the right "to destroy, to slay . . . every people and province that oppress them," including women and small children. Wiener suggests that, to the Christian fundamentalists, the Book of Esther appears to authorize the bombing of Iran — regardless of civilian casualties.

Others in the Christian blogosphere are speculating that Palin's Esther-like purpose will be to intercede within her own country, to protect her own people: that is, Saved Christians, who believe themselves under siege on all sides by secularists. "Our freedom to worship God, and our biblical values are under attack like never before in our country," wrote William H. Carney, author of the small religious-press book How Would Jesus Vote?, in considering the Palin-as-Esther question. "God has positioned Sarah to serve as a standard against the enemies' onslaught."

Still others insist that Palin is being placed by God to stop what they see as the ongoing Holocaust of our time: abortion....even more...
//repost from 10/23/08//