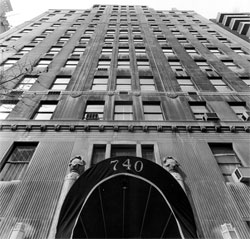 The J. Ezra Merkin of recent headlines and scandals -- known for eternity as a Bernie Madoff feeder -- and the Merkin family live in duplex apartment 6/7B at 740 Park Avenue.
A book by Michael Gross, 740 Park, is a fascinating account of rich New York through the prism of that single exceptional building.
We bought this book several years ago to read about the really rich folk in the neighborhood where we grew up, including Merkin's upstairs neighbor, our former Brown University buddy, Tommy Tisch (duplex 8/9B), and the rest of the club at the "tony" address.
There's barely a mention of Tommy in the book and the passage on Ezra, mistaken by the co-op board for a rabbi, is now, in retrospect, funny.
Here's what Gross says on page 467 about how Ezra Merkin bought his apartment from Faith Perelman:
Faith dropped (Ronald) Perelman's name, but stayed in 740 until she married plastic surgeon Peter Linden in 1994. The rich get richer; she made about $11 million on her (1978) $300,000 investment.



The buyer, Ezra Merkin was the son of Hermann Merkin, the child of a family of furriers who'd escaped from Nazi Germany. Hermann became an American intelligence officer, a private investor, and one of the philanthropic elder statesmen of New York's Jewish community.

Like his father before him, Ezra is president of the Orthodox Jewish Fifth Avenue Synagogue, where Faith worshipped. Like Israel Englander, he's a principal in a hedge fund.

Unlike his sister Daphne, a writer who publicized her rejection by the co-op board at 1075 Park Avenue (she claimed her essay on sado-madochism in a book titled Dreaming of Hitler inspired the turndown), Ezra Merkin is an intensely private man.

Aside from one 1991 tantrum against what he deemed Steve Ross's mismanagement of Time Warner, neither he nor his Gabriel Capital Corporation is much in the public eye.

Some in the building even believe he is a rabbi. Which may explain why, when he appeared in a yarmulke for his admissions interview at 740 Park, Donald Rynne later told a realtor, board members thought he was a rabbi and were so afraid of offending him they hardly asked a question before accepting him.
Gross created quite a
helpful web-site
to back up the book
, calling it, "Step Inside: 740 Park: the Story of the World's Richest Apartment Building" with a new blog entry there called, "The murky world of Ezra Merkin" and with links to 740 Park Avenue building resources like these:
Gross' blurb from the web site:
For 75 years, it's been one of the most lusted-after addresses in the world. Even today, it is steeped in purest luxury, the kind most of us can only imagine. Until now. The story of 740 Park Avenue sweeps across the twentieth century, and Michael Gross tells it in glorious, intimate and unprecedented detail. From the financial shenanigans that preceded the laying of the cornerstone, to the dazzlingly and sometimes decadently rich people who hid behind its walls, this is a sweeping social and economic epic, starring our wealthiest and most powerful old-money families-–Vanderbilt, Rockefeller, Bouvier, Chrysler, Houghton and Harkness-–and today's new-monied elite: Bronfman, Perelman, Kravis, Steinberg, Koch and Schwarzman. [Last updated 12/30/08 - Reposted.]