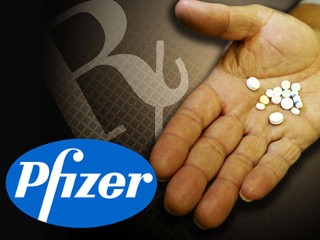 Pfizer has now been penalized with the largest fines in history for cheating, lying and misrepresenting in the marketing of its drugs.
The company is worse than Madoff. It has no legitimate credibility at all as a pharmaceutical manufacturer. It should be forced to cease operations.
It makes no sense to us that a single person should take a single Pfizer pill from this day forward.
The company is a fraud, it is fair to assume that its drugs are all complete frauds.
You now can conclude without a shadow of a doubt that nothing bad will happen to you if you stop taking the snake oil that has been sold under the names Lipitor, Zoloft or Viagra, among others. Really. Stop taking them. Um, based on the facts of the cases against Pfizer, it is fair to suspect that bad things will happen to you if you do continue to take their pills.
Yes we do know that is not what the government says. That is simply what any sane and logical person should conclude.
Example - we just saw a commercial on TV for Aricept. Guess what? "Aricept is manufactured by Eisai Inc. and marketed by Pfizer." Aricept is supposed to make Grandma stop forgetting about making her family their dinner. Nah. We now think, based on, oh gee, facts, that whatever Pfizer says is a load of crap.
Pfizer to pay record $2.3B penalty for drug promos
Repeat offender Pfizer paying record $2.3B settlement for illegal drug promotions

WASHINGTON (AP) -- Federal prosecutors hit Pfizer Inc. with a record-breaking $2.3 billion in fines Wednesday and called the world's largest drugmaker a repeating corporate cheat for illegal drug promotions that plied doctors with free golf, massages, and resort junkets.

Announcing the penalty as a warning to all drug manufacturers, Justice Department officials said the overall settlement is the largest ever paid by a drug company for alleged violations of federal drug rules, and the $1.2 billion criminal fine is the largest ever in any U.S. criminal case. The total includes $1 billion in civil penalties and a $100 million criminal forfeiture.

Authorities called Pfizer a repeat offender, noting it is the company's fourth such settlement of government charges in the last decade. The allegations surround the marketing of 13 different drugs, including big sellers such as Viagra, Zoloft, and Lipitor.

As part of its illegal marketing, Pfizer invited doctors to consultant meetings at resort locations, paying their expenses and providing perks, prosecutors said.

"They were entertained with golf, massages, and other activities," said Mike Loucks, the U.S. attorney in Massachusetts...more....