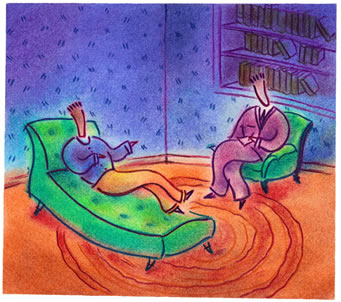 There are two reasons for a person to engage in psychotherapy. The first is to address an acute need to treat a mental disorder, especially the most dangerous, serious depression, which can lead to the inability of a person to function in the world, or at its worst, to suicide.
The second goal of therapy is a longer term process to learn about one's own personality, especially its weakness and flaws, and to modify it so as to better function in society and better relate to other individuals.
For Daphne Merkin, judging from what she wrote this week in the Times ("
My Life in Therapy: What 40 years of talking to analysts has taught me
"), these two goals of therapy appear to be secondary to her reason for engaging in the medical treatment, namely to meet her need to have a paid listener with whom she can talk, a pseudo-friend who she can visit and complain to on a regular basis.
In truly one of the most odd passages at the end of her self-absorbed essay, Daphne explains her disappointment in her latest therapist who told her to lose some weight and get into a relationship. She speaks as if the therapist was her boyfriend of sorts,
I didn't want another one-way attachment, which would come to an end when I stopped paying for it. My skeptical 20-year-old daughter once referred to therapy as "emotional prostitution," and although I thought the term a bit reductive, there was a piece of unpleasant truth to it.
Well, the picture we get from Daphne's current memoir of therapy is quite dismal. Daphne has spent 40 years talking to therapists and in those let's say 1000 sessions, costing over $1 million, she has learned nothing at all of value that she wants to tell us about herself or about how to be a better person. (But she has landed on the front page of the New York Times Magazine. And so there is some return on the investment.)
Perhaps that's because she has always been convinced that she is just perfect, and has nothing she needs to change. Dr. F, who pointed out to her that she was fat, clearly was encoding, in ways that Daphne could not decode, that she needs to recognize her imperfections before she can make any movement to fix the profound flaws of her broken personality.
Daphne's conclusions after 40 years, are tragically meager enough to invite comment. She tells us, "In the offices of countless therapists — some gifted, some less so — I sharpened my perceptions about myself and came to a deeper understanding of the persistent claim of early, unmet desires in all of us." I doubt that the practitioners were countless, so why the exaggeration? And exactly what was the sharpening that she acquired? No need to elaborate. Just a few examples would have made the telling more worthwhile.
We've been to five therapists ourselves and could account for the significant moments of enlightenment and self-understanding that we had with each one of them, if we thought that was socially acceptable self-revelation or a personally productive mode of confession. We don't and we don't. The therapy we engaged in was curative process to help us cope with serious problems. And yes we did extend it to help us work on eliminating those flaws of personality that led us to situations that could bring us back into vulnerabilities and lead us back into serious psychological troubles.
We learned how our views of our world and self needed to be adjusted and we then made those adjustments. If we thought it was proper to write an account of our discoveries, changes and progress, we might do so.
We never went to a therapist to find a friend, a relationship, or worse, a "release valve." But it looks like Daphne was not there to learn or improve herself. (In personality, she was already perfect.) She had other intents in her treatment. As she says to conclude,
Therapy, you might say, became a kind of release valve for my life; it gave me a place to say the things I could say nowhere else, express the feelings that would be laughed at or frowned upon in the outside world — and in so doing helped to alleviate the insistent pressure of my darker thoughts. It buffered me as well as prodded me forward; above all, it provided a space for interior examination, an education in disillusioned realism that existed nowhere else on this cacophonous, frantic planet.
From this "education" there appears to have been no learning. Her account so distorts the goals and purposes of therapy, yet she knows little to nothing of the actual transactions that she engaged. Her final circular assessment is that she went to see doctors of psychiatry because she was addicted to going to them.
If after many years of an almost-addictive attachment, I decided it was time to come up for air, I also knew it is in the nature of addicts never to be cured, but always to be in recovery. Good as it felt to strike out on my own, I was sure that one day in the not too distant future I would be making my way to a new therapist's office, ready to pick up the story where I left off.
Indeed there is a story here. It is one of a person of means who paid a doctor to listen to her whining and now opines that she did so because she was addicted to the process. It seems to us more likely that this is a spoiled child craving attention, but not an addict of any kind, and to be sure not an adult who learns or grows in any way that she can tell us.
P. S.: After reading this essay, we feel ripped off. Any wonder? Daphne (once again, as in past pieces) omits entirely from her writing that she is the sister of the notorious J. Ezra Merkin, whose deceptions as a major part of the Bernard Madoff scandal are legendary. If her brother was so adept at misrepresentation, may we wonder about the authenticity of the memoir of the sister?