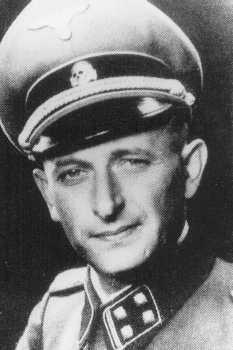 I've always despised Hannah Arendt for the chutzpah of mitigating Eichmann's horrifying evil, "He was a typical functionary" she says, and his evil was "banal".
And I am one of those, "Jews who were infuriated by [her] charges of Jewish complicity in the Holocaust."
Brody has a lucid powerful new post on the matter of Arendt in the New Yorker ("
HANNAH ARENDT'S FAILURES OF IMAGINATION
") in which among other trenchant observations he says,
... Arendt reveals the ground for her belief that Eichmann was no ideological Nazi but, in fact, was just a blind functionary. Not being an intellectual, he couldn't have had "ideas" or "terrifically interesting things" to think about Hitler, and, therefore, he couldn't have "really believed in Nazism." I've long believed that her division of the world into those who "think" and those, like Eichmann, who speak in what she calls "clichés" reflects the snobbery of a proud member of the intellectual class. It's a strange badge of intellectual honor to ascribe true belief in Nazism solely to intellectuals, and it is yet another sign that the passions and the hatreds on which the movement ran were essentially beyond Arendt's purview. Second, her charge against the intellectual class—that they invent "completely fantastic and interesting and complicated things" and get "trapped in their own ideas"—is the perfect description of her own heavily theoretical and utterly impersonal view of Eichmann.
Experience God's Favorite Prayers