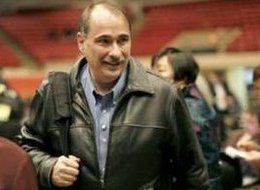 Yes, David Axelrod who has resigned as President Barack Obama's Senior Adviser in the White House, is a Jew.
He grew up in a middle-class Jewish household in New York's Stuyvesant Town neighborhood. Axelrod showed a passion for politics at age 13 when he sold campaign buttons for Robert F. Kennedy. Axelrod attended Stuyvesant High School in Manhattan and the University of Chicago.
Former White House Chief of Staff Rahm Emanuel, who is also Jewish, is one of Axelrod's closest friends. Axelrod signed the
ketubah
(Jewish marriage contract) at Emanuel's wedding, an honor usually reserved for a close personal friend (
TNR: The Plank
).