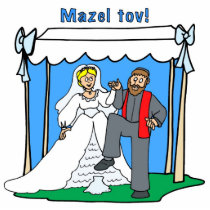 Sure to be the subject of discussion, a rabbi officiated at the big wedding. A
Times Blog
reports on the ceremony for the wedding today of Chelsea Clinton and Marc Mezvinsky.
6:50 p.m. |Some Details on the Ceremony

The interfaith ceremony will be conducted by Rabbi James Ponet and Reverend William Shillady. Ms. Clinton is Methodist and the groom, Marc Mezvinsky, is Jewish.

The family said the ceremony would celebrate and honor elements of both traditions. It would include friends and family reading the Seven Blessings, which are typically recited at traditional Jewish weddings following the vows and exchange of rings.

A friend of the couple planned to read the poem, "The Life That I Have," by Leo Marks.
The
Schmooze at the Forward
reported:
Ponet is Yale's Jewish chaplain and heads the university's Joseph Slifka Center for Jewish Life at Yale. Read his bio here. At Yale, he's taught a seminar on "The Family in Jewish Tradition," with sexpert and Bintel Brief guest columnist Dr. Ruth Westheimer.
No word yet on whether the groom wore a yarmulka or broke a glass at the conclusion of the ceremony.
Update: Pictures sent to us appear to show Marc wearing a
kippah
and a
tallis
(thanks to Joseph). That looks like a
Ketubah
in the background on the easel and the structure above the couple is said to be their
Chuppah
- wedding canopy. We were told the food was glatt kosher, but we deem that assertion dubious.
ABC News.
)